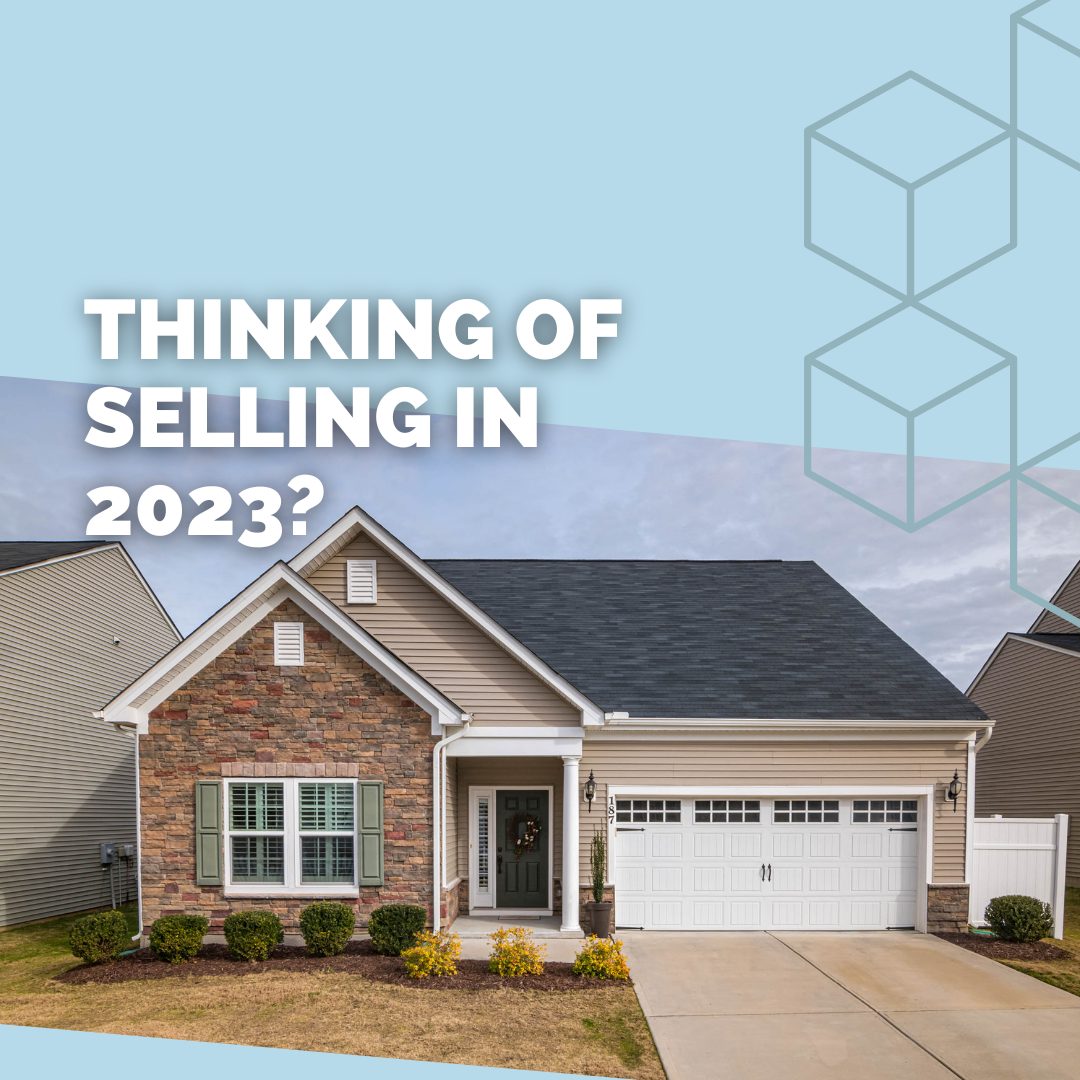 Thinking of selling your Owen Sound/Grey Bruce home in 2023? Here's what to expect: Updated March 7, 2023
As we enter into the spring market of 2023, what should I expect if I am thinking about putting my home up for sale in the Owen Sound and Grey Bruce Area? That's a great question, and to answer it we need to look at the stats. I want to start off by saying there are A LOT of fear mongering headlines, and while some of them may be true, oftentimes they focus on Average Statistics for a general area,  based on a snapshot in time. Statistics are good to determine a trend of where things are going, but each house can vary and it's important to have an updated comparative market analysis done before you go to sell.
How long will it take?
Let's begin with days on market. How long should you expect it to take to sell your home? Right now the median days on the market is about 79 days in Grey Bruce.  BUT where you are matters. In reality, a well priced home should take around 1 month, higher end homes will take a bit longer. We are seeing good movement in homes under $500,000.
According to data from ShowingTime, showings are down 73% from this time last year. The days where there were 20+ showings in the first few days are gone, and now you can expect 1-2 per week, depending on what price point your home is in. If you are priced under 400k, you may get more.
How much will it sell for?
How much money should I expect my home to sell for? Well, no one can know for certain what you will get, but the average home seems to be selling for 95-96% of its listing price. In Grey Bruce the median sale price currently sits at $600,000 for a single family home, this is down about 18.1% from a year ago today. Looking at Owen Sound the median sale price sits at $422,500.  This may sound pretty dreary, but keep in mind that prices are still up 25%-50% from 2019/2020. 
Why has the market changed so quickly?
Why has the market changed so quickly? In 2022 Canada has seen the BoC raise rates from .25% up to 4.50%. The speed at which this has happened has flattened the market. 
In summary, you can expect your home to take a bit longer to sell, and because sales are down so much, your home will have to be priced and presented right to be in the 80% range of homes that sell and you should be prepared to reduce the price if the feedback is negative or you are not getting any showings. If you do get an offer you should be prepared for there to be multiple conditions to work through. 
Thinking of selling? download our seller guide! click below:
Curious what your home is worth? request a home valuation:
If you'd like to discuss the market, we'd be happy to chat. I can be reached at tim.matthews@c21.ca or 519.375.7153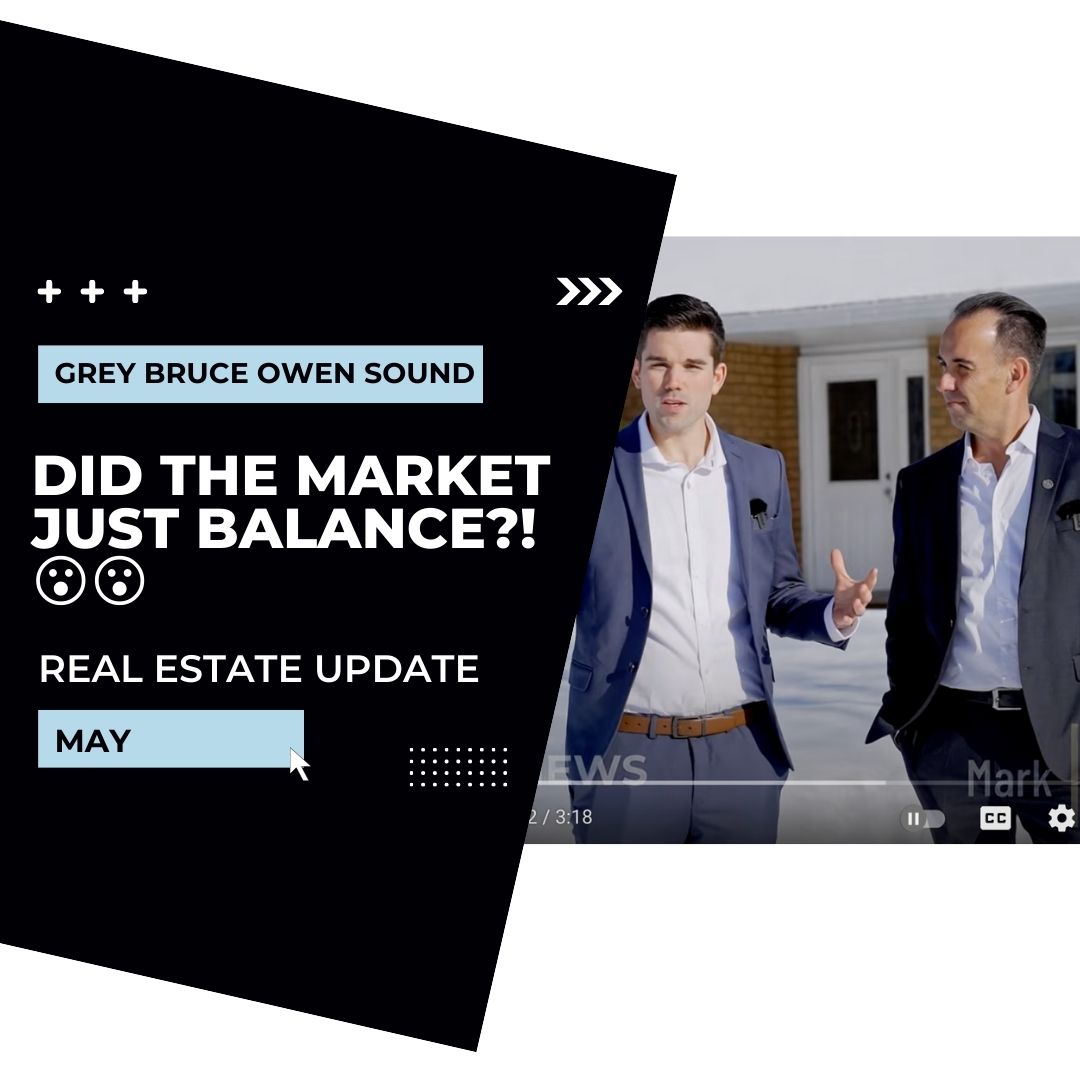 Did the market just balance?
Is the Grey Bruce market crashing? There is lots of news going on right now about how sales and prices are dropping fast, but what's actually happening on the ground in Grey Bruce? Read on and I'll explain. 
List to sale prices settling down
One of the most interesting stats is the sales to list price. This measures what the sale price is, versus the list price and is a good indicator how far over asking things sell, and the strength of the market, you can see how it peaked in February and has come down since then.  Going from 105% in February to 100.6% in May.
More inventory coming quick
The story seems to be more inventory coming on the market, there are currently 600 active listings in Grey Bruce, this is the highest it's been since 2020. With the surge in active listings, our month of inventory has also gone up. Month of inventory is one of the best stats to see where the market is going and for the first time since 2020 it is above 3, signaling a quick shift from a strong sellers market to a balanced market. The amount of time to sell a house jumped from 9 days to 12 days.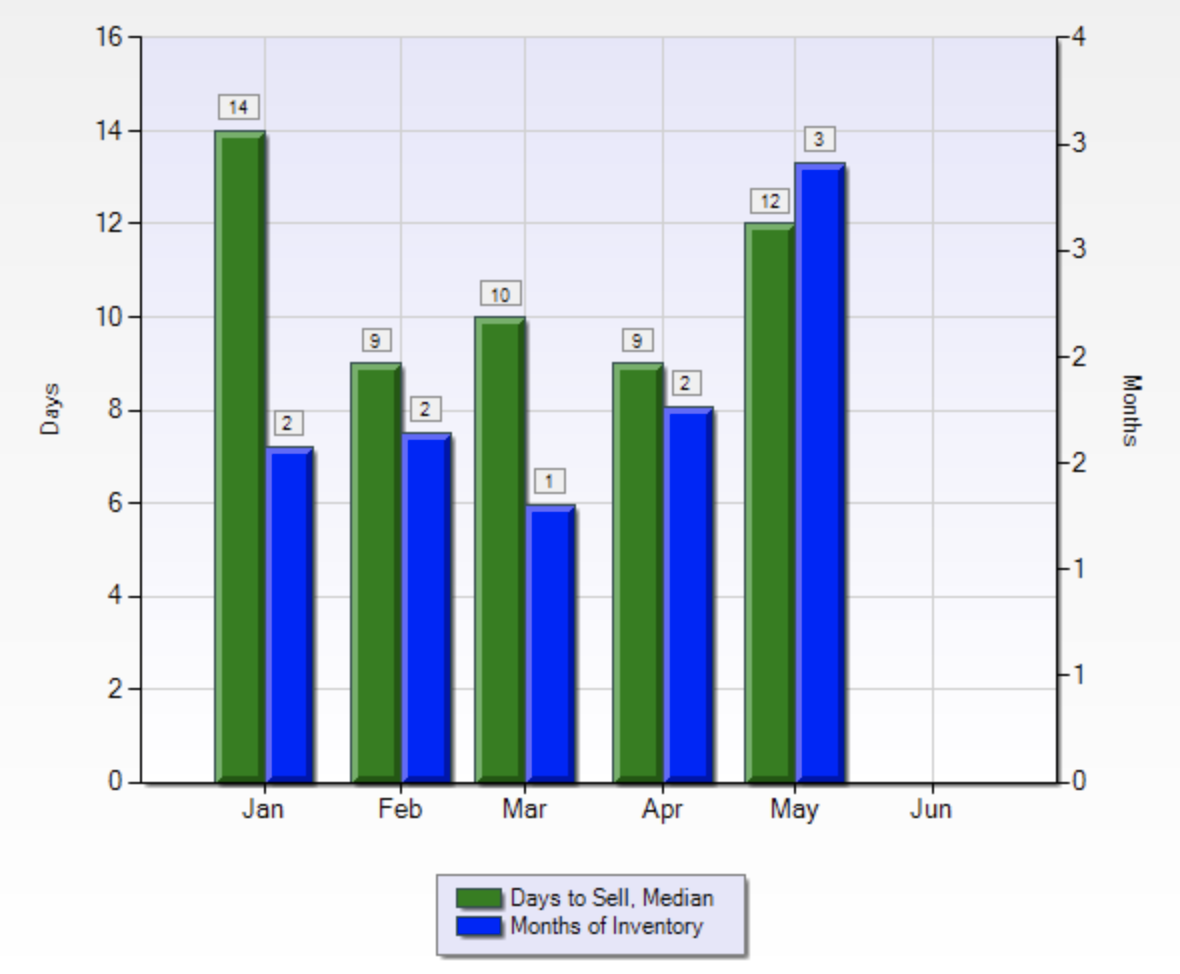 How about prices?
The average price of a residential home in Grey Bruce was $689,000, down slightly from April. However in Owen Sound the average sale price was up from $547k,000 to $584,000.  
In summary, sale prices are holding but we are seeing a drastic and quick change in the volume of properties coming on the market. From an on the ground perspective I am seeing less showings on my listings and the majority of properties are not holding offers any more. 
What does this mean for buyers and sellers? 
If you are a buyer you've finally got more options and can probably buy with conditions, and less competition, however if you need a mortgage your purchase power may go down. For sellers, if you need to buy it would be unwise to buy without selling first. It's not as sure of a deal how fast, and for how much your home will sell for. Sellers also need to understand that the house that sold 2 months ago is no longer a comparable property and the market has changed. Sellers need to price their homes competitively with the other active listings and present them well. The market may look drastically different in 2-3 months. 
Thinking of selling? Want to talk about the process? Let's connect. 519.375.7153 or tim.matthews@c21.ca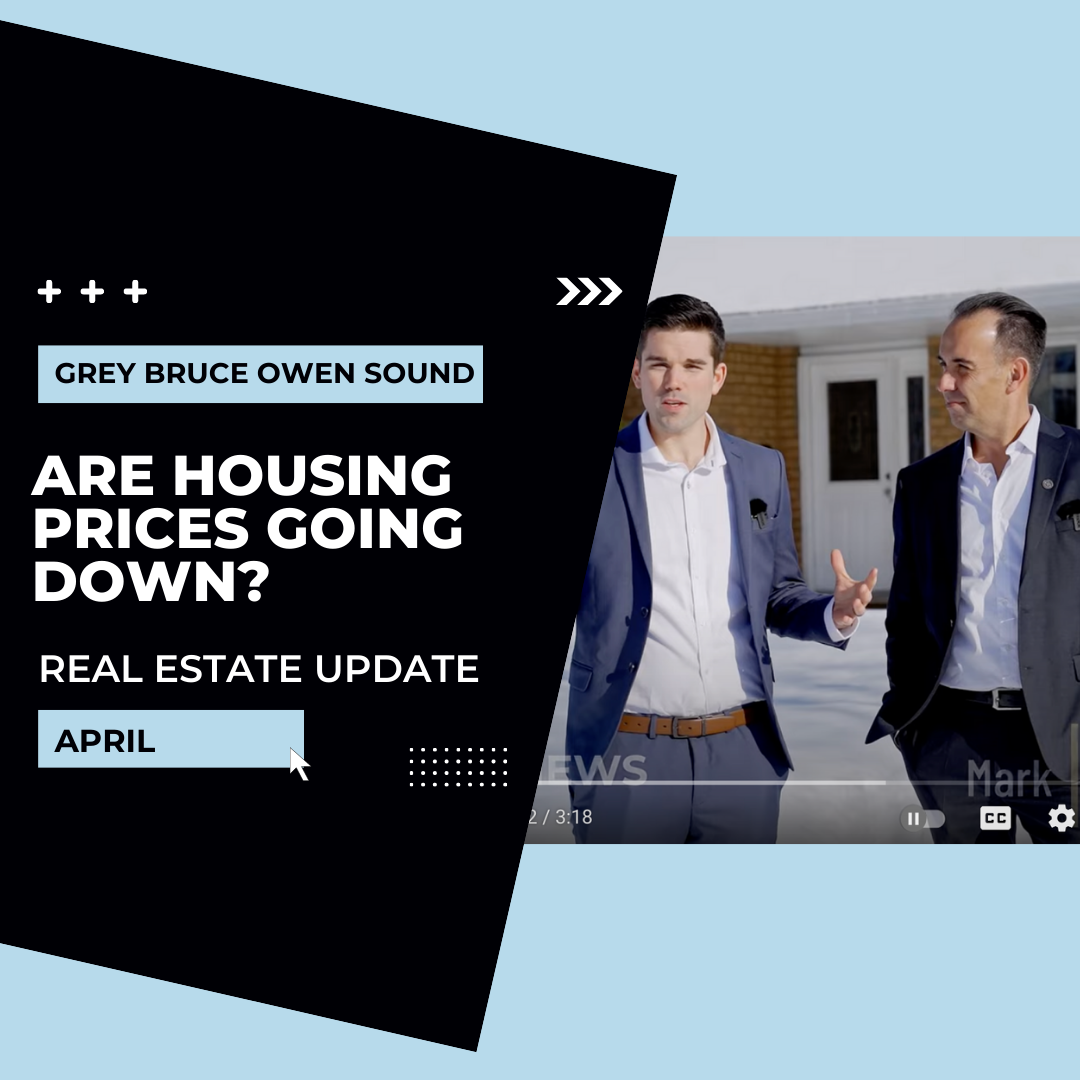 Is the real estate market going doing in Owen Sound & Grey Bruce?
We've all been inundated with news stories about interest rates, inflation and prices falling but what's really happening on the ground right here in Grey Bruce? 
Let's start with prices: 
The median price in Grey Bruce was $700,000 up 18.5% from last April, and down slightly from March. In Owen Sound it was $567500, down from $603,000 in April. 
How about supply & demand?
Perhaps what is most interesting is inventory. There continues to be a good amount of supply coming on the market and with rising rates/cost of inflation cooling buyer demand a bit, we have finally started to see the market shift slightly. 
Active Listings in April were 390, this is up sharply from the 272 in March. We had  399 new listings come to market In April up from 315 in March, this has caused our month of inventory to jump from 1.2 up to 1.6. 
On average it still took just 10 days for a home to sell and places went for 105.3% of their sale prices.
What does this mean for buyers and sellers? 
Well as we know when more inventory comes on the market that gives buyers more options, this means sellers are going to have to be realistic with their price expectations. That house on the street that sold for 800k 2 months ago is no longer a reasonable comp to use. 
For the full break down of RAGBOS STATS go here.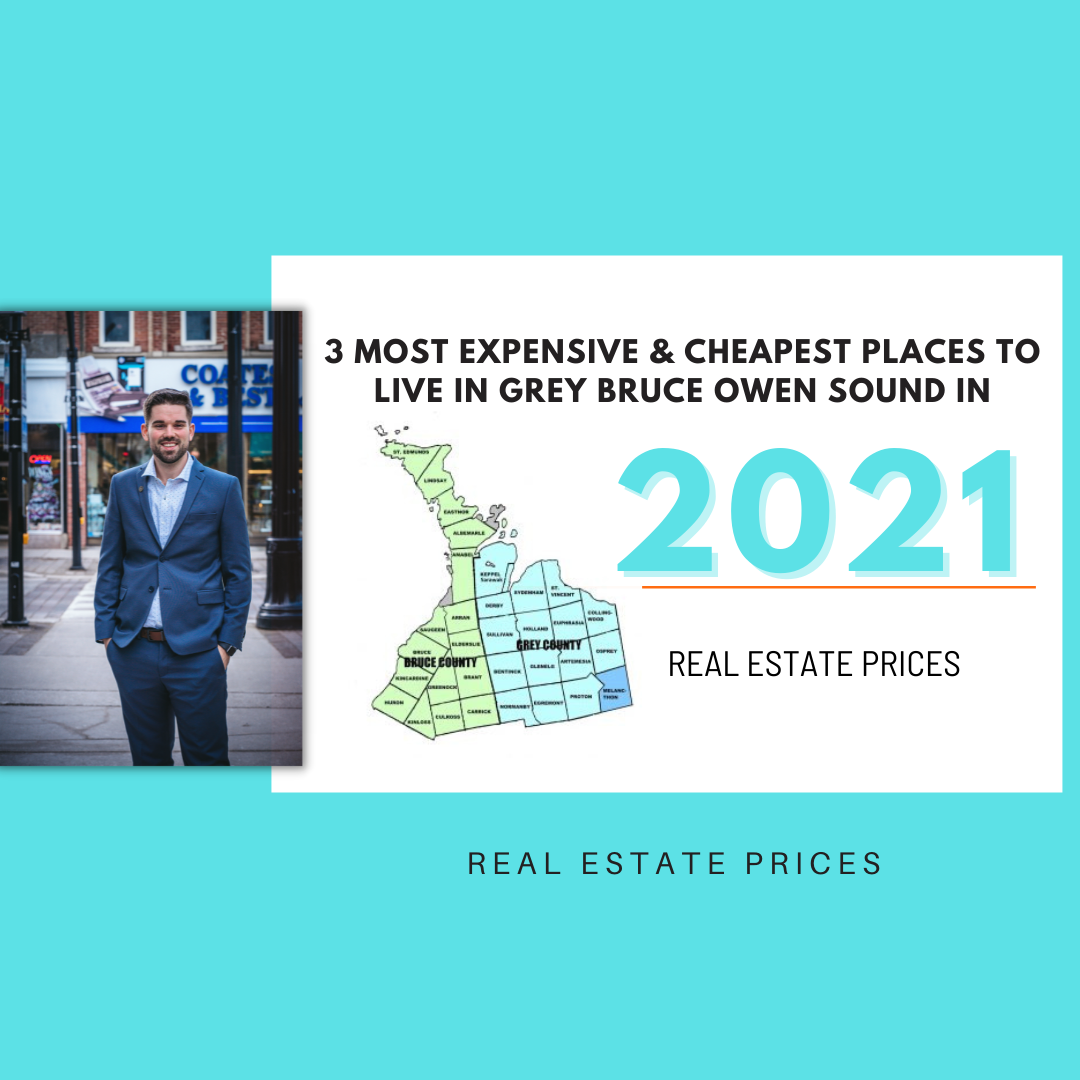 Grey Bruce Home Prices in 2021 (Top 3 cheapest places to live in Grey Bruce).
In Grey Bruce The median sale price  finished the year at 598k, up 36 % from last year. How about the municipalities? here are the three cheapest, and most expensive places in 2021. 
Top 3 cheapest places:
1. Arran Elderslie (Tara, Allenford, Chesley, Paisley) 
Median Sale Price: 443k up 28.4% since 2020
2. Owen Sound: Median Sale price: $480,000 up 37.4% since 2020
3. Hanover Median Sale price: $485, 500 up 27.8% since 2020
Top 3 Most Expensive Places:
1. Grey Highlands: Median Sale Price: $770,000 up 37.5% since 2020
2. Meaford: Median Sale Price: 750k up 25% 1 year, 84.7% 2 years.
3. Georgian Bluffs: Median Sale Price: 749k up 46.9% since 2020
Request a Home Equity Report on your home 👇 https://timmatthews.ca/home-valuation
Grey Bruce Owen Sound Cheapest & Most expensive places to buy in 2021 *Stats are based off of single family homes, Source: https://www.ragbos.com/wp-content/upl…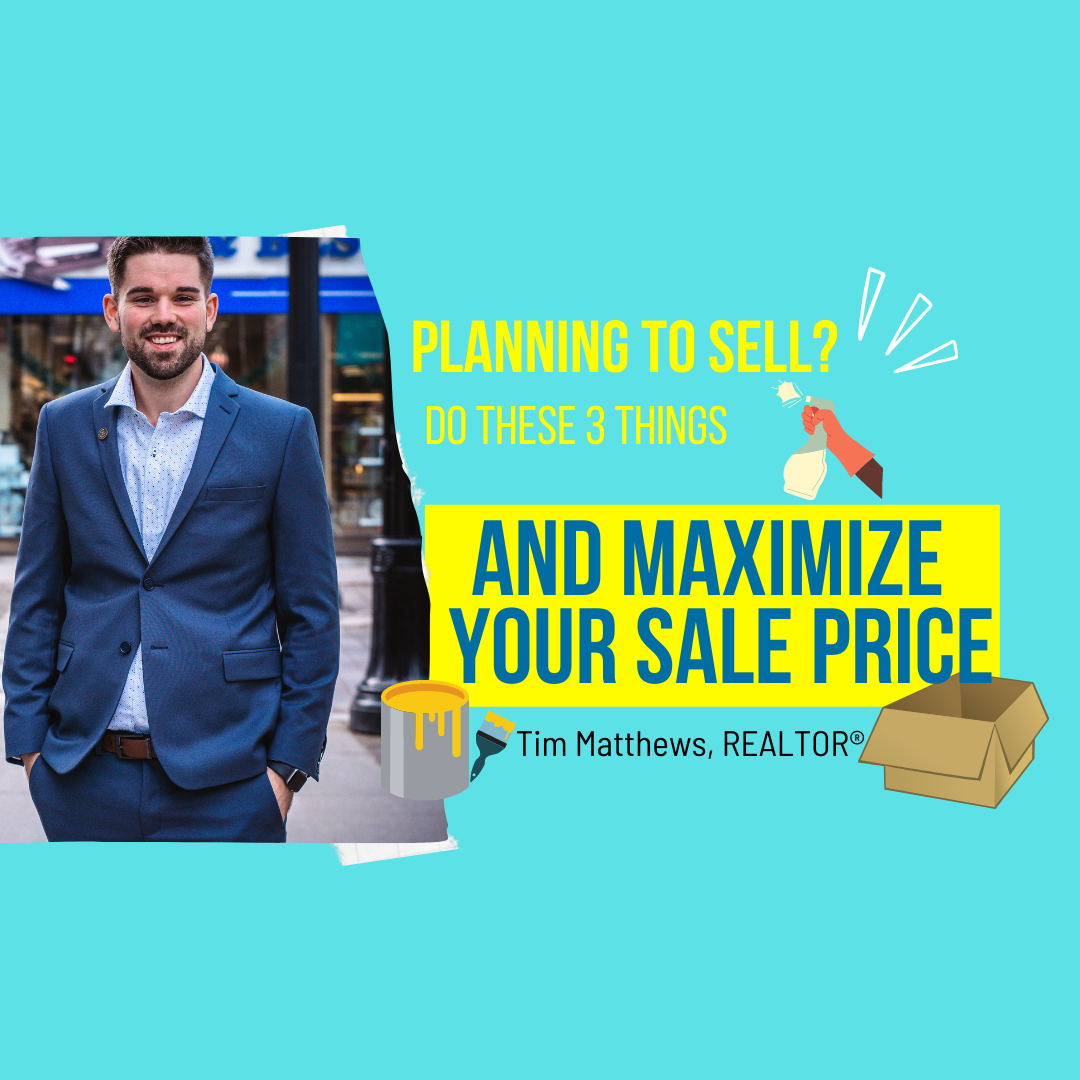 What to do before selling? 3 things to do to maximize your sale price!
My name is Tim Matthews and I am a Real Estate Agent in the Owen Sound & Grey Bruce area.
What to do before selling?
If you are planning to sell in the next year, here are three things I think you need to do, to make sure you maximize your sale price.
Declutter – you're moving, so start packing. Start donating things, making dump runs, and downsizing. Remove things off the fridge, the end tables and countertops. You want to get the house looking as spacious as possible. Don't forget to do this to your outside yard and basement.
Clean – Clean everything; walls, windows, counters, faucets, sinks. A clean home shows a real pride of ownership and gives buyers confidence that it was taking care of.
Repairs – A lot of people want to get overwhelmed with fancy renovations, but you need to start with the big repairs first. I have found that old roofs and furnaces are the biggest hold backs on sales. If your roof needs to be replaced you should absolutely do it.
Now, after you are done this, you can take it up a notch. Here are 3 bonus tips to help get you even more money!
Paint – you want to think bright, light and neutral. If you want suggestions on paint colours check out this HGTV blog. A fresh coat of light paint can make the home feel new, spacious and clean. Painting kitchen cabinets and exterior doors can be cheap alternatives to full upgrades.
Electrical updates – If you have dated electrical fixtures, beige switches and plates, you should consider having an electrician come in to swap them out for something more modern. Need an electrician in the Owen Sound area? check out Benedict Electric.
Door handles and kitchen cabinet knobs. If your knobs are the shiny brass ones or white, it's time for an upgrade. Swap these out to make your home feel more updated.
Doing all of these suggestions will put you well on your way for a great sale price. If you are reading this are in the Owen Sound/ Grey County area, it would be a great idea to have me out to look at your home and come up with a sale plan. Connect with me here or call me at 519.375.7153.
The Real Estate Market in Grey Bruce Owen Sound stayed strong in November & I'm giving the market 9/10🔥for how hot it was. Watch this video below and I'll explain why.
Want to chat more about the market? I'd love to
connect
. I am a Real Estate agent located in  Owen Sound and I serve all of the Grey & Bruce areas.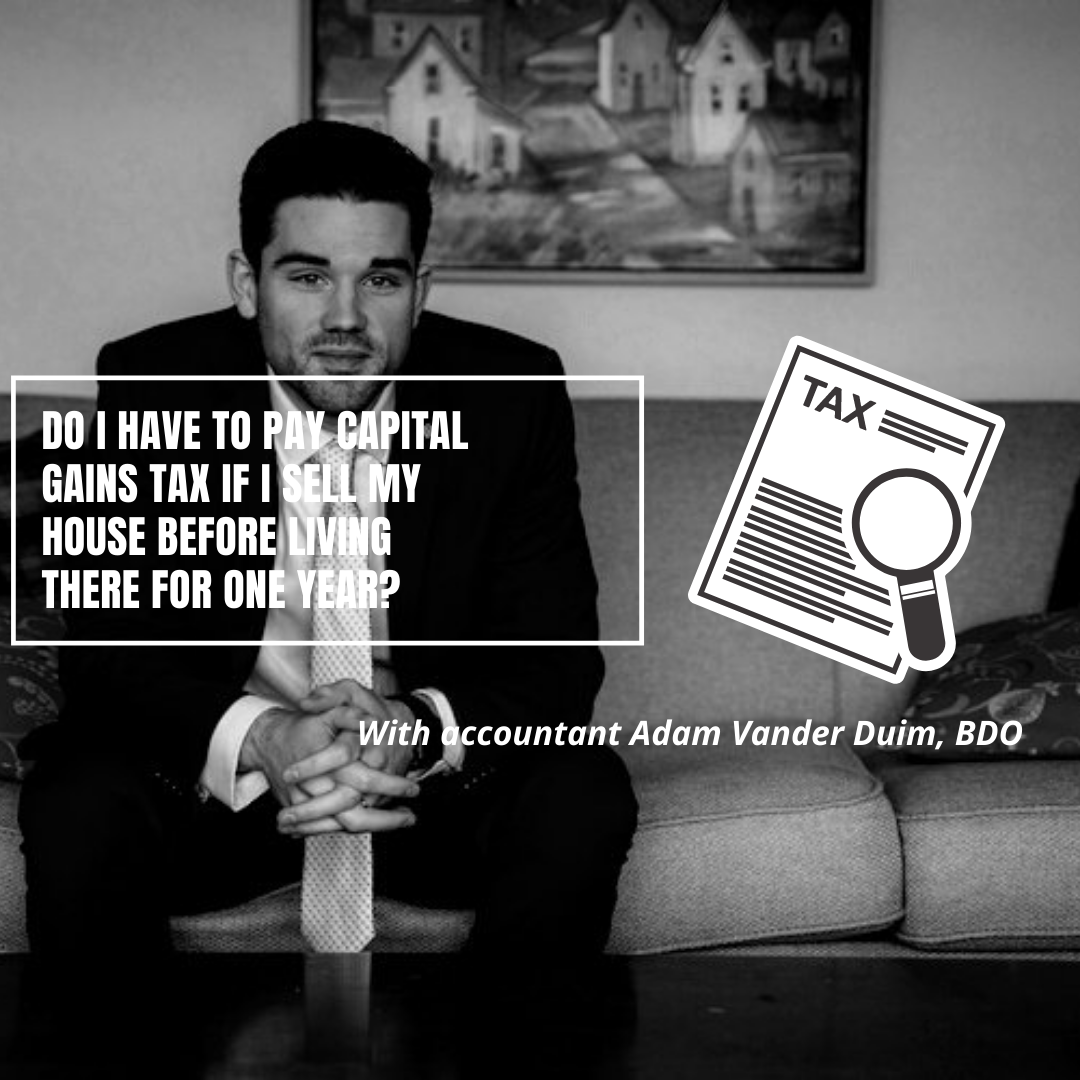 Do I have to pay capital gains tax if I sell my house before living there one year?
If you've sold Real Estate recently you'll need to make sure you report it on your upcoming taxes. If the property you sold was your principal residence, you won't have to pay capital gains tax on it as you will be exempt based on the Principal residence exemption (PRE).  What defines principal residence? You can have one principal residence a year that you must have generally lived in over the year. Many people think you have to live in your principal residence for a full year to avoid paying capital gains tax, this is not true and there is no set time frame for which you must occupy the residence. It's called the ordinary inhabited rule.
Now, if you've been buying properties and flipping them every year all while claiming the principal residence exemption, you might have something to be concerned about. An article by the Financial Post talks about how a couple bought and sold real estate in 5 consecutive years. In each case they made improvements to the home and sold them for a significant profit. They were found guilty of not properly using the PRE. You can read about it here.
For someone who has decided to sell for personal reasons, employment change, or simply wanted to rent, you don't need to worry about this. However, if you frequently buy and sell real estate while claiming the PRE, it's possible that the CRA could question your motives. 
Need to connect with an accountant? Contact Adam here.
Want to talk Real Estate? Let's Connect! 
*This is for educational purposes only and should not be taking as tax or financial advise, talk to an accountant.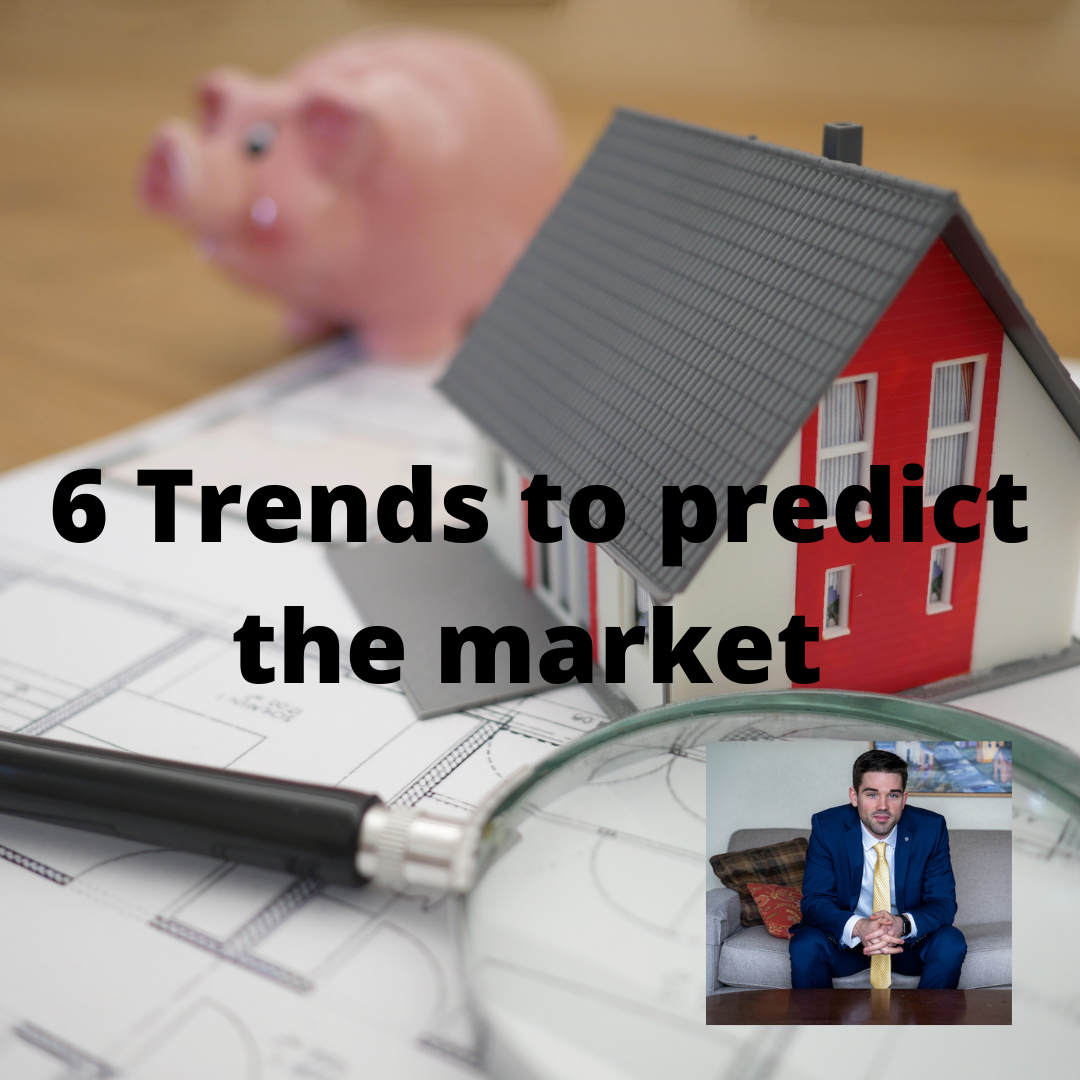 Six trends to predict the housing market
Here are six things we can keep on eye on to try and determine which direction the housing market could be heading.
1. The news – News companies thrive on trying to predict the future and while they sometimes over state things, oftentimes it can be a good indicator of what is to come. If buyers are overly fearful of what the news is saying, it can cause them to wait it out and see what happens. 
Google "Canadian Real Estate market crash"  and you'll see headlines like
The news is certainly indicating that a correction is on the horizon, but doesn't that sound familiar?
2. Employment Rates – Low unemployment levels typically point towards an increase in prices as more people look to purchase and high rates would decrease as people cannot afford to buy. Canada's unemployment rate has been trending down for the last 6 months, but It is higher than pre pandemic years. Will Vaccine Mandates affect this? 
https://tradingeconomics.com/canada/unemployment-rate#:~:text=Unemployment%20Rate%20in%20Canada%20averaged,percent%20in%20June%20of%201966.
3. Months Of Inventory – This market stat is one of the best indicators of where the market is going. Month of inventory means this: If no new listings came on the market, how long would it take for everything currently for sale to sell. Currently in Grey Bruce it is 1.8 months and in Canada it is 2.1. We remain in a tight sellers market. 
Sellers Market <4 months 
Balanced Market 4-6 months
Buyers Market >6 months
4. Affordability – This includes the cost of the home, cost to maintain the home, and the level of income to support the home. If income rises with home prices, then things will not change, however if income stays equal and home prices go up then we have a problem. Low interest rates have been key to keeping homes affordable. An increase in interest rates combined with an increase in gas, electricity, property tax would take a toll on housing prices. 
5. Showing Request – Showing request on listings tracked over time can indicate buyer confidence in the market. In Ontario showing requests have been trending down since May, but look to be starting on an upward trend, more data is needed. 
How are builders feeling about the market? An increase in housing starts indicates confidence, lower starts indicate skepticism. Since the pandemic began Canada has been trending upwards in housing starts, peaking in March. Since then it has been trending down, however we are still significantly higher then pre pandemic. 
How about Lumber? We all know how bad that got during the winter, it has fallen, taken a sharp turn and fallen back down. 
So what can we conclude with all this information? Right now the news is predicting a crash, and affordability is dwindling with the cost of housing and living going up. However, inventory remains low, unemployment is low, and builders are still building. I believe we are in an unknown territory. 
Want to talk Real Estate? Connect with me here, I'd love to chat.
Source: https://www.revrealestateschool.com/tips/how-to-predict-real-estate-prices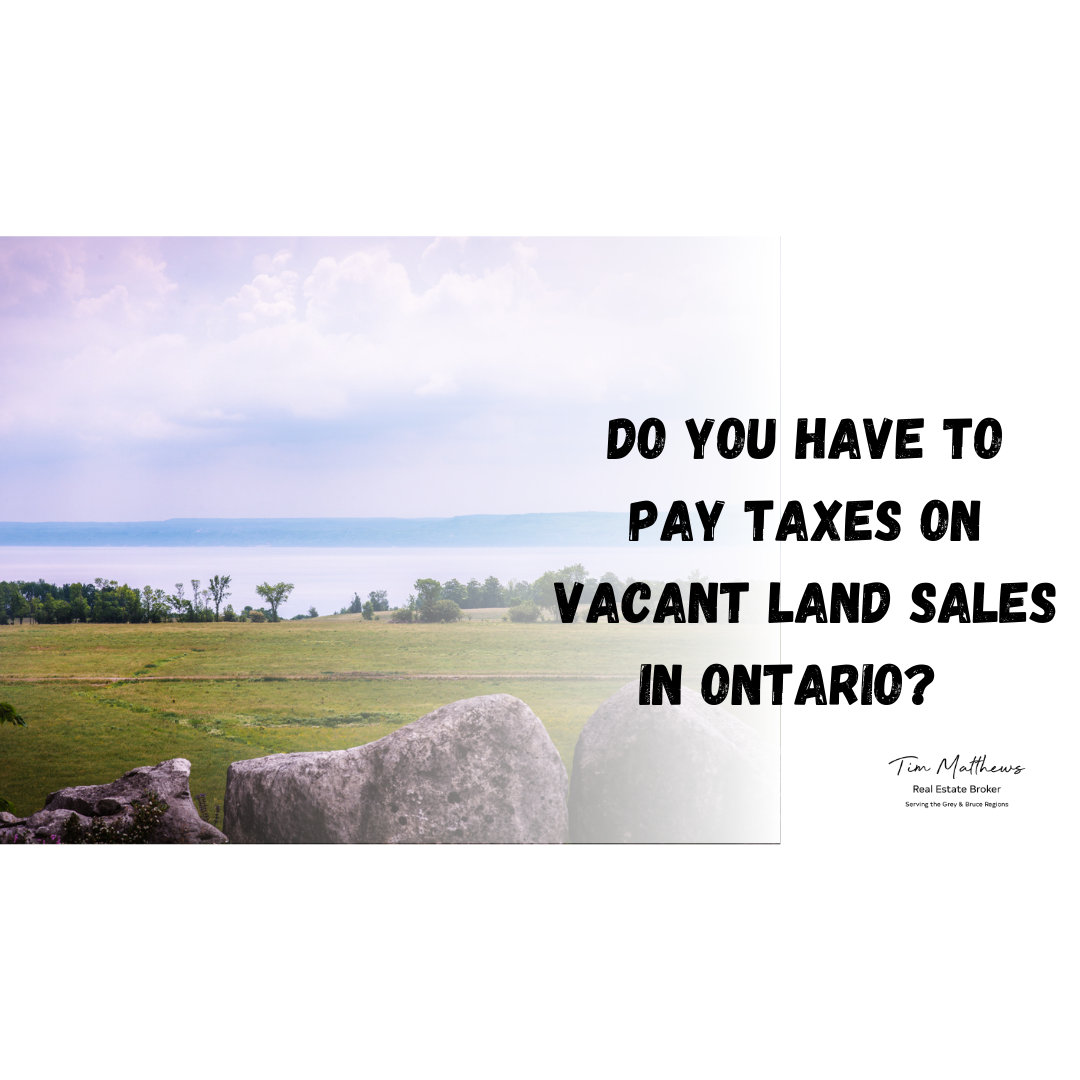 Do you have to pay tax on vacant land sales in Ontario?
To answer this question it has to be broken down into two categories, Capital gains tax and HST.  In general you do have to pay a capital gains tax, however HST is not often applicable. Watch the video below as local accountant Adam Vander Duim explains the answer to this question.
According to the Gov of Canada there are 3 scenarios where your vacant land sale would be subject to HST:
capital property that you have used primarily for a business
the sale of land through the course of a business
selling land after the original parcel has been subdivided 2 or more times.
For more information on tax of vacant land sales check out the Government of Canada's website. 
Need to connect with an accountant? you can contact Adam here.
Want to talk Real Estate? Connect with me here, I'd love to chat.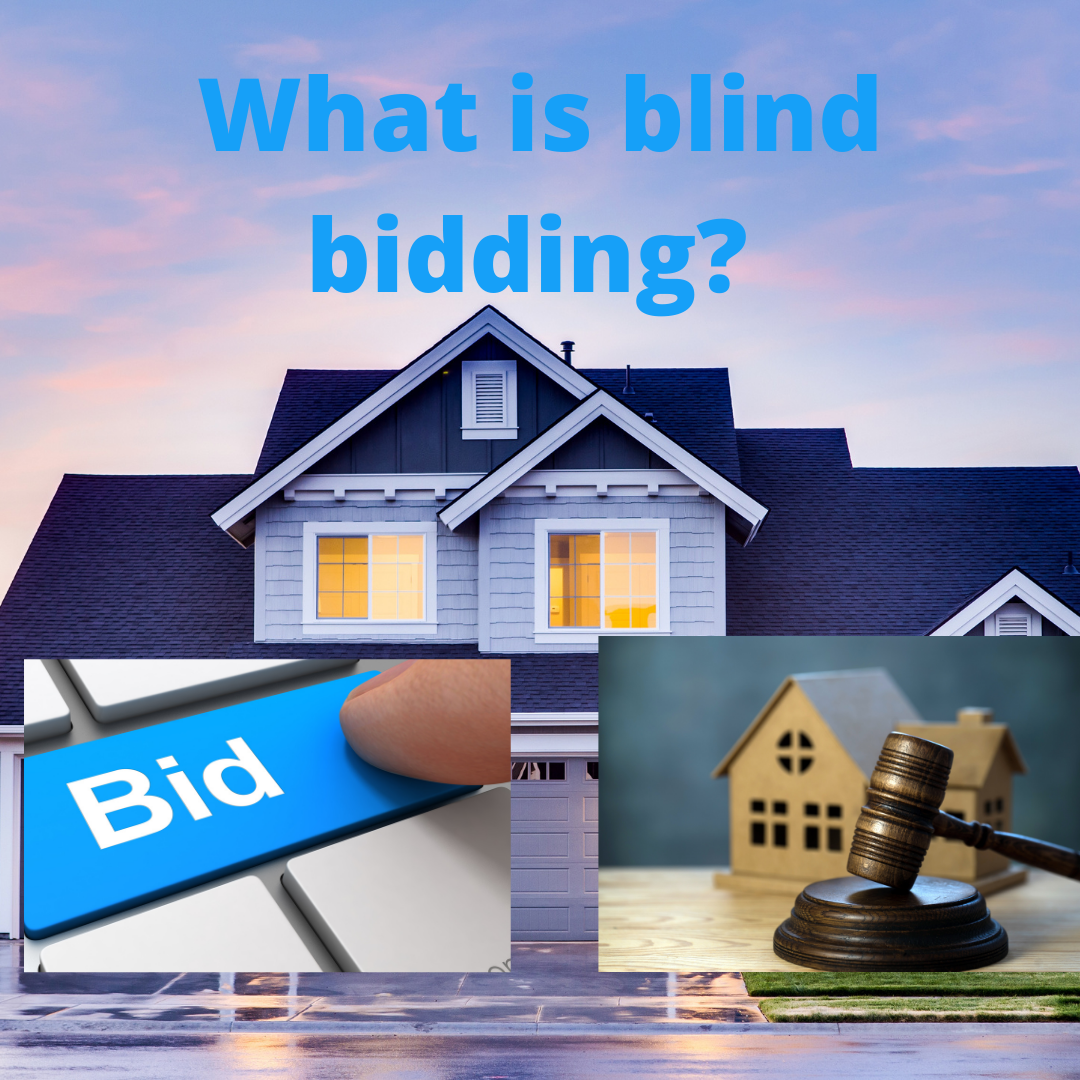 What does blind bidding mean?
The Federal Liberal Government recently announced its plan to put forth a buyer's bill of rights that would ban the practice of blind bidding in real estate. On the Surface eliminating blind bidding would probably seem like a good thing but would it really be? In this blog I'll explain what blind bidding is, and the pros and cons for each side. 
In Ontario sellers can opt to sell their home however they choose, through blind or open bidding, with the majority of sellers choosing to sell with the blind bidding method. With the blind bidding process nobody is allowed to know anything about the other parties' offer, this includes price, terms and conditions. The only thing that a buyer can know is the amount of offers they are competing against. So buyers will put out their best bid on a home and hope that it is higher than the other offers. A buyer could pay 200k more than the next best offer and they would never know it; so the reason why there is much talk of banning the practice is to avoid buyers from drastically overpaying for a home which in turn should cool off home prices.  
Is this really a good idea?
Privacy concerns – from a strategic standpoint the price is not always everything that will win an offer. There are so many other factors that can affect what offer a seller will choose; conditions, deposit, closing date. There are a lot of grey areas here. Does the seller have to pick the highest price or will they be able to choose whatever offer they want? What about an offer that has a condition upon selling their home and wants to pay more? 
Seller rights – We live in a free country and sellers should not be told how they can and cannot sell their homes. What is being proposed is to amend the criminal code so that you must sell through an open bid strategy. 
Will it actually help cool prices? Most advocates for this think that opening it up would create an even playing field, however could it do the opposite? In parts of the world where they do open auctions it often creates a frenzic chaotic environment that is easy to overspend in. Australia uses an open bidding process and often holds auctions on the front lawn of the home. Australia is currently in the middle of a huge housing price boom and also sees homes go over the asking price. It's arguable that a blind bidding system allows buyers a calm environment to determine what they are willing to pay for the home. 
Finally, not every home gets multiple offers, in fact prior to COVID hitting the majority of homes outside the GTA did not get multiple offers. We have a housing supply problem in Canada that has been accelerated during COVID. The only 2 things that are going to slow prices down are building more supply and raising interest rates. In my opinion opening up the offer prices is not in the best interest of the buyer or the seller. 
For more info check out my video below: